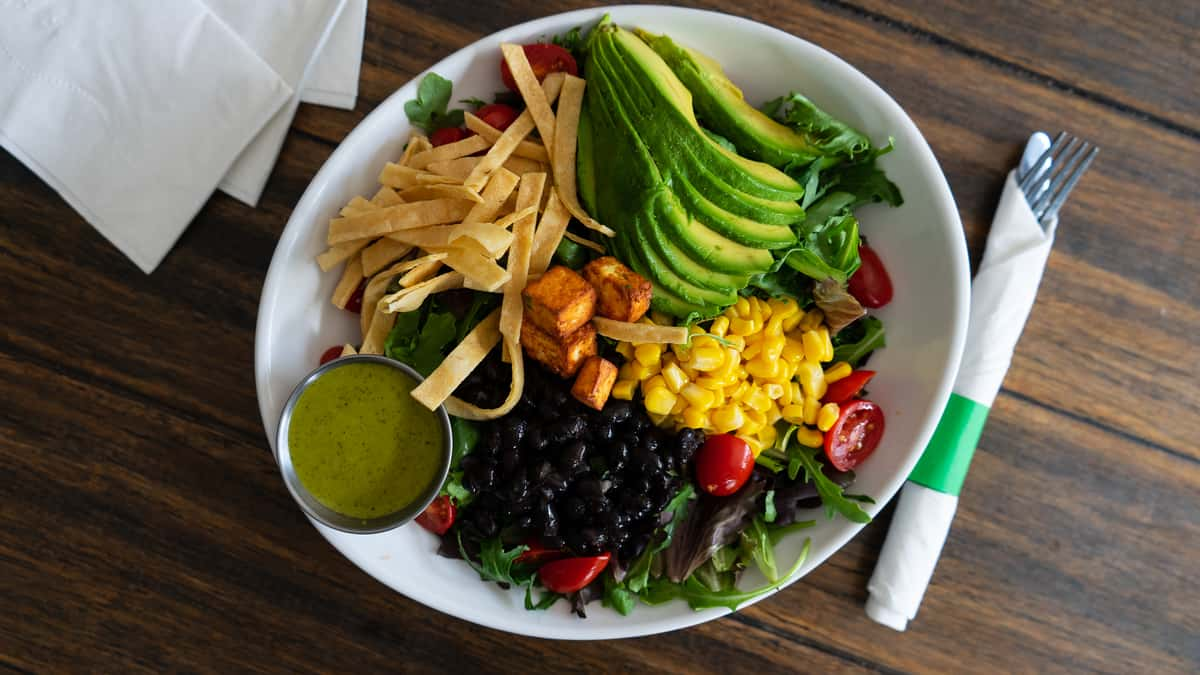 Black Bean Avocado Salad
A Vegetarian's Guide to Dining at Verde
By Isabella Silber
At Verde, we cater to nine recognized food allergies, including dairy, peanut, gluten, onion, shellfish, fish, tree nut, egg, and soy. We understand that some individuals need special accommodations for food, and we want to do our best to always cater to those needs, regardless of what they may be.
For our vegetarian friends, we have plenty of options to indulge in. Our starters are almost all vegetarian or can be made vegetarian, aside from the rolled tacos. If you want to start with something on the healthier side, try our spicy sprouts, which are crispy Brussel sprouts, Verde spice, jalapeno crema, and cotija. They are the perfect light starter and a fan favorite. Our shishito peppers are also a great healthy option to start with. The blistered peppers are topped with salt and tajin. They are also vegan!
There are also plenty of other starters to choose from if you are vegetarian, such as chips and salsa, guacamole, or fundido, a quesadilla, or nachos. There are almost too many options to choose from!
Our black bean avocado salad is another vegetarian crowd pleasure. It comes with mixed greens, corn, cherry tomatoes, black beans, avocado, tortilla strips, cotija, croutons, and topped with cilantro-lime vinaigrette. It's jammed packed with flavors and oh-so filling!
Our new cauliflower taco is another must-try for vegetarians. It comes with cauliflower, Morita salsa, cilantro, scallions, and cotija. This taco has not been on the menu for long, but customers are already raving about the explosion of flavors.
Most of our burritos can be customized and made vegetarian. Our breakfast burrito comes with egg, potatoes, cheese, and salsa and is a great way to start off your morning. And if you like breakfast for dinner, this is another great option!
Our California burrito comes with your choice of protein, so in most vegetarian cases, that would be grilled vegetables. Aside from that, it also comes packed with guacamole, potatoes, cheese, and salsa. This is by far one of the most popular items on our menu. We also have a more classic burrito that comes with your choice of protein, rice, your choice of beans, salsa, and an upgrade.
Finish off your meal with something sweet like our ice cream or churro waffle. You really cannot go wrong with either. You may just want to order both…
At Verde, we try our best to make our food for everyone to enjoy. Regardless of your dietary restrictions or allergies, we have something for all to indulge in. Stop by our Boulder or Louisville location to try for yourself!