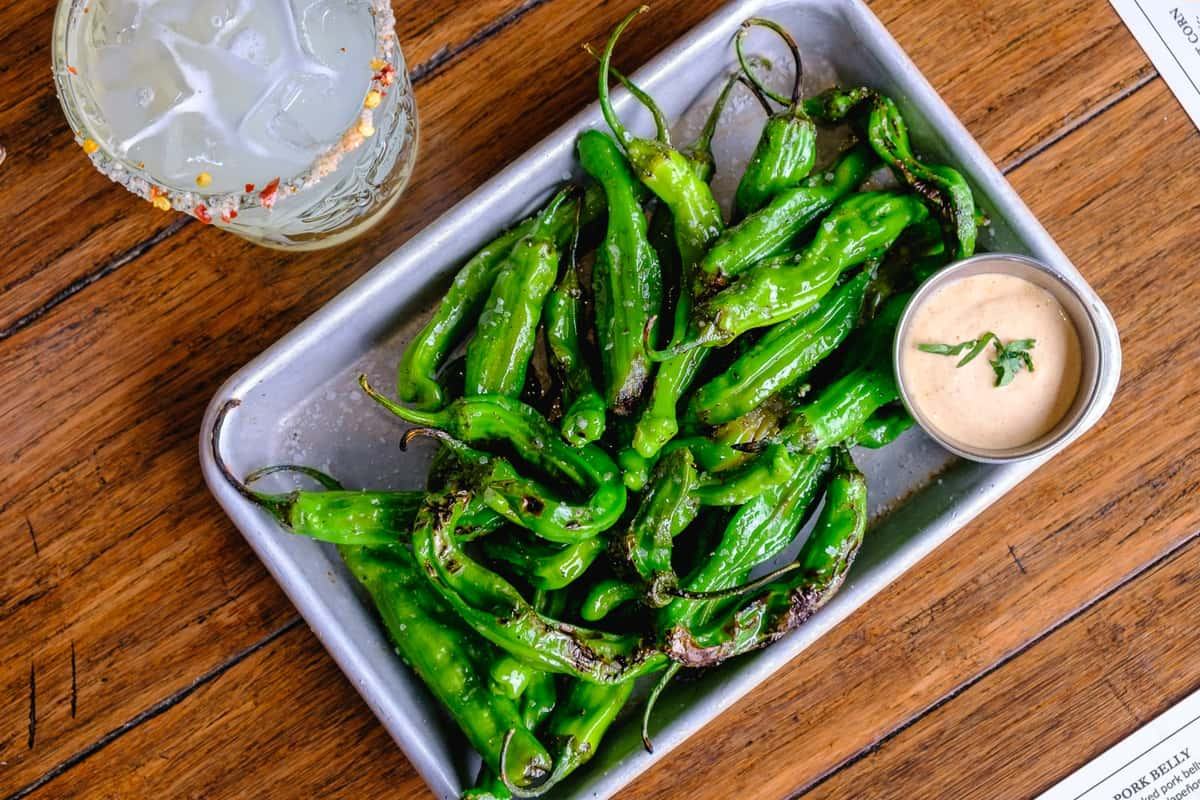 Shisito Peppers
A Deep Dive into Appetizers at Verde
By Isabella Sibler
At Verde, our appetizer selection is vast, and each dish is just as good as the next. All of our appetizers are designed to complement each other and our drinks from the bar. Keep reading to learn more about our appetizers and which one (or two or three) you want to indulge in the next time you dine in at our Boulder or Louisville location, or order take out…
Our spicy sprouts are definitely a crowd favorite. The crispy Brussels sprouts are prepared with Verde spice, jalapeno crema, and cotija. One of our customers, Whitney, shared that "there are no words for how dang good these Brussels are. I hate getting them to share with friends because I want them all for myself. My recommendation? Order two every time. Best Brussels in Boulder, hands down." Customers love our Brussel sprouts, and we do too! Make sure to follow Whitney's advice and order two… or even one to bring home for later!
If you want something a little heartier and filling, our nachos are a must. Our famous house-made chips are topped with cheese, black beans, tomatoes, onion, jalapenos, and sour cream. You can also add carnitas, chicken, grilled vegetables, or carne asada for a small extra charge. Looking to do take-out instead of dining in? A customer with the handle, Hcragin, assures that even when you get them as carry out, they are still as good as when you dine in!
Did you know that you can actually buy our hand-cut and made-in Colorado chips at King Soopers, Alfalfas, Peppercorn, and Lucky's Market? Talk about a game-changer! But, if you are able to dine-in or order take-out at one of our two locations, make sure to start off your meal with our house-made chips and smashed homemade guacamole, salsa, or fundido. Our fundido is made with a blend of jack, cheddar, chevre, cotija cheese, green chilis, hot sauce, and our Verde spice. Try our salsa trio of Pina, Morita, and house red to have a taste of all of our salsas!
Our quesadilla is another classic and is made with a flour tortilla, cheese, and choice of protein, whether that be chicken, carnitas, or grilled vegetables. Ern241 shared that he loves "Verde's carne asada quesadilla. I've tried them from other places but keep coming back here because there's just no rival." Need I say more?! We also have rolled tacos which come with two deep-fried, rolled chicken tacos with crema and salsa if you are in the mood to try something a little different!
If you are someone who likes to go a little bit out of their comfort zone, our shishito peppers are the perfect choice to get your meal started. These blistered peppers are topped with salt and tajin. This dish is a great change of pace from the traditional appetizers usually found at other Mexican restaurants. Plus, they are vegan!
Now that you know a little more about all of our appetizers, it is time to give them a try! After all, no matter what you pick, you can't go wrong!